Collection of pages from K&E catalogs for the 4055 family
Description:
The 4055 family of slide rules is of the Mannheim type and named "Favorite". The 4055s were constructed on a mahogany frame with celluloid laminated to the surface. The markings are engine divided.

The 4055 was intended to be a version of the 4041 without the inch and centimeter scales on the top and bottom edges.
History:
The 4055 was first released in the 1927 catalog. The last mention of the 4055 is in the 1943 catalog. The following is a brief history of the 4056 family of slide rules as is told in the K&E catalogs that are available at this time. Exact timing is not possible because of the time between catalogs.
Catalog page from the 1927 catalog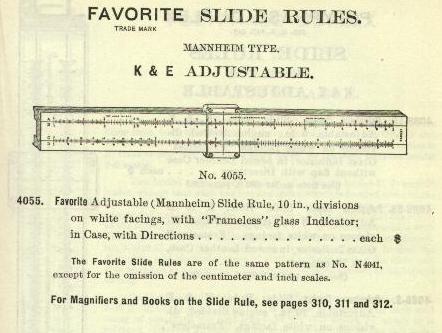 Links to catalog pages for the 4055 family of slide rules:
Scans: Scans of 4055 Family of Slide Rules