Collection of pages from K&E catalogs for the 4235 family of Polar Planimeters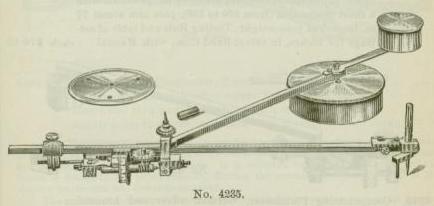 Description:
The 4235 is an Amsler style polar planimeter with an adjustable tracer arm and means to measure mean height of indicator diagrams. Refer to page 313 of the 1915 catalog for a good description of the instrument.

The previous page in the 1915 catalog explains the method of finding the mean height of indicator diagrams with the 4235.


The following models are part of the 4235 family:

4235 ------ Polar Planimeter with multiplier wheel and mean height calculation.
N4235 ---- A 4235 "somewhat changed"..
History:
Of the catalogs available the 4235 polar planimeter first appeared in the 1895 catalog.
Links to catalog pages for the 4235 family of planimeters: